The Insecure Mind of Sergei Kraev
"An absolutely riveting read—a can't-put-down look at a world very much like our own, but with all our trends fast-forwarded."
—Drew Hansen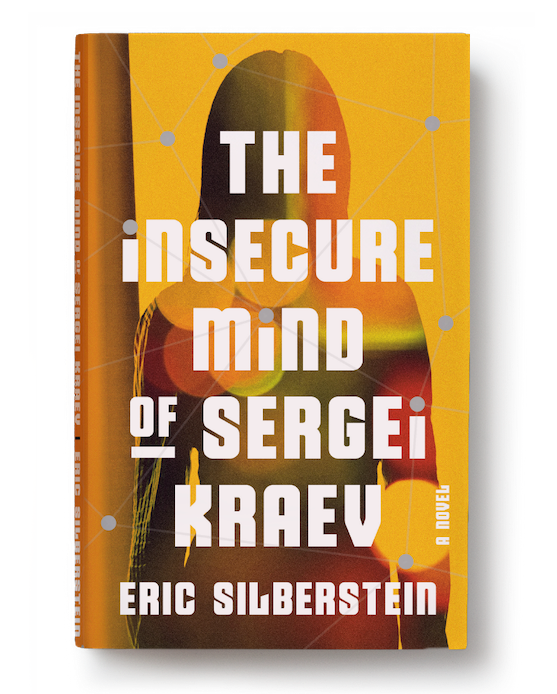 Order now on

Math is perfect; people are not
The year is 2100. The lack of trust that characterized the early Internet era is long behind us. Mathematical proof ensures neural implants can't be hacked, and the Board of Reality Overseers blocks false information from spreading.
When undergraduate Sergei Kraev, who dreams of becoming a professor, is accepted into the Technion's computer science graduate program, he throws himself into his research project: making it possible for neural implants to transmit information directly to the brain. If he succeeds, he'll earn a full professorship.
But Sergei falls under the influence of Sunny Kim, the beautiful and charismatic leader of a K-pop dance cult. Sergei believes in Sunny's good intentions and wants to protect her from critics, leading him to perform a feat of engineering that leaves billions of brains vulnerable to attack.
With the clock ticking towards catastrophe, can Sergei see the truth about Sunny and undo what he's done?
Weaving together compelling characters and spanning decades and continents, The Insecure Mind of Sergei Kraev is a classic tale of love, ambition, and self-interest building to a shattering finish.
Praise for the novel
"Where do we go from the global disinformation and pandemic of 2020? A history told from multiple voices, an evocative projection of the world we may invent to protect us—and the ways in which humans being human can game any system—this is a fantastic read that I couldn't put down."
—Cindy Alvarez
"The best book I read during the pandemic was a book I couldn't tell anyone about because it wasn't published yet. I'm so thrilled that I can finally shout it from the rooftops! The Insecure Mind of Sergei Kraev is an incredible read. I can't stop thinking about it and am so delighted that the world will be able to experience Eric Silberstein's brilliantly creative mind and masterful writing like I have."
—Elizabeth Navisky
"Sci-fi isn't the genre that I usually gravitate towards but I'm honestly glad I stepped a bit out of my comfort zone. It kept me hooked and I gobbled it down. The tension was real and palpable. The characters spoke with honest emotion and I cared about them. Sergei is everyman without society's required hard, masculine shell. I loved him."
—Roxanna Sue O'Connor
"I've read thousands of sci-fi stories, and the thing that stands out for me here is the originality—it doesn't quickly fall into some typical genre or pay tribute to some other great novel. This made it especially enjoyable…it deserves to be read and enjoyed widely!
"Eric Silberstein's debut novel is a highly original and fast-paced imagining of where wiring our brains and senses to the internet might take us. Quantum computing, dance troupes, mathematical proofs and randomized clinical trials all cleverly intersect in a story that you think you can predict, but which will twist in unexpected ways. The Insecure Mind of Sergei Kraev is a credible and realistic view of the near future, with a warning that the fallibility of human beings will always trump technological progress. Enjoyable and recommended."
—Bryan Gaensler, PhD
"From the first sentence, I was hooked by the premise and immediate action. Set in the not-too-distant future, it was easy to see how our world could have evolved to the imagined geopolitical climate and technology-laden lifestyles underpinning what is, at its core, a relatable story about universal human concerns—work, love, sex, family. I loved how all of the stories were intertwined and connected but how that unfolded over time, revealing well-developed, authentic characters. Silberstein's vivid descriptions of the foods, neighborhoods, architecture and music of various settings took me on a fascinating global tour that somehow felt both exotic and familiar. I hope it gets made into a netflix series!"
—Samantha Levien
"In so many ways, the world Eric Silberstein shows in this debut novel is the one we all want—the world we just know is coming. It is a world of nice things, where humans are online from birth, not merely masters of our technology but, finally, universally enhanced and empowered by it. Neural interfaces connect us to each other while protecting our privacy and gently compensating for our deficiencies.
"Inside every utopia there's an unwelcome guest: human nature. What happens when a perfect world is inextricably linked to the minds of its imperfect creators? Are we the reason we can't have nice things after all? Has it always been this way? Silberstein's answer is both an incisive critique and jarring for its feeling of inevitability.
"I loved and pitied Sergei for his innocence, his brilliance, and his ability to get lost in a crowd of his own thoughts. For all his talents, he suffers for want of what we all need: to love and to be loved, to feel a part of something lasting; to make things better than they are. Who am I to judge his mistakes? Would I have done any better?
"Like all great Sci-Fi authors, Silberstein entices us with a good story, but holds up a mirror. In the end, I reached the conclusion I hope many other readers will enjoy reaching: I am Sergei, and I am why humanity can't have nice things."
—Jeffrey Liss
"The Insecure Mind of Sergei Kraev is a gripping read richly informed by state-of-the-art science. Silberstein brings you into the minds of mathematicians and computer scientists in a compelling portrayal of expediency and ambition colliding to produce disaster."
—N. R. M. Roshak
"Writing a novel is hard. It takes imagination, patience, perseverance, humility, and most of all bravery. That makes it all the more rewarding to read a book like this where the author's pure joy of creation leaps off each and every page. The Insecure Mind of Sergei Kraev has a compelling and relatable near-future premise, complex characters that stay with you long after you've finished, and something important to say about the role of technology in our world—and the twisted relationships of the people who control it. With his debut novel, accomplished technologist Eric Silberstein has crafted a story that not only entertains and inspires critical thought, but invites readers to share the excitement, pride, and pleasure he so clearly poured into this work. And it is contagious. If you're anything like me, you will enjoy turning the pages as much as he did writing them."
—Kristopher E. Sarajian
"The Insecure Mind of Sergei Kraev is a brilliantly inventive book that is hard to put down. Eric Silberstein has imagined a future that somehow makes our present more intelligible. It's a future that reveals how technological advances threaten our humanity, and yet, at the center of the story is a deep human yearning that gives the book its thumping heart."
—Sam Apple, author of Ravenous: Otto Warburg, the Nazis, and the Search for the Cancer-Diet Connection
Show more praise...
Where to buy
The Insecure Mind of Sergei Kraev was published on August 5, 2021 and is available from Amazon, Barnes & Noble, Apple Books, Google Play, Kobo and other book and audiobook retailers.
Order now on

Audiobook
The unabridged audiobook (10 hours and 43 minutes) is narrated by Peter Berkrot, a recipient of the Audiofile Earphone Award and Voice Arts Award for Best Voice. The Insecure Mind of Sergei Kraev is his 500th audiobook.
Prologue
April 14, 2220
One hundred years after 4-17
Singapore Island
Children,
This is my ninety-fourth annual message. It's hard to believe there are now 2,978 of you, including my two great-great-great-great-grandchildren born today.
My message this year breaks with tradition. Instead of celebrating your accomplishments from the past twelve months, my subject is a chain of events that started before I was born.
I was thirteen on 4-17. Now, one hundred years later, I'm ready to tell you our family's story—a story I've reconstructed from implant recordings, my great-grandfather's glasses, and speculation.
If you have questions, please ask them soon. My great-grandfather was 113 when he brought me and Ora to Singapore. Today I turn that same age. I'm in good health and, as far as I know, my mind is sharp. However, predictively speaking, this is my final decade.
Love,
Leon Levy
About the author
Join author mailing list
Please join after you finish The Insecure Mind of Sergei Kraev.